Announcing Upcoming Local Events-SE North Carolina-Author Frank will be talking about his new book Dread the Fed:
Sunday 9.11
Wilmington-Temple of Israel Men's Club  9:30am
1 S 4th St, Historic Wilmington
Monday 9.12
Boiling Spring Lakes Library-Meet the Author 5:30pm
9 East Boiling Spring Rd., Boiling Spring Lakes, NC
Saturday 9.24
Leland Cultural Arts Center 9:30am  
1212 Magnolia Village Way, Leland, NC
---
Amoroso Fall 2016 Book Tour on Long Island
Highlighting new book releases: Dread the Fed and Behind Every Great Recipe (companion cookbook to Behind Every Great Fortune.) For more info email:
Tues., Oct. 4
Noon
Huntington Rotary
Mac's Steakhouse
12 Gerard St.
Huntington, NY 11743
631-549- 5300
7-9 PM
Half Hollow Hills Library
55 Vanderbilt Parkway
Dix Hills, NY 11746
631-421- 4530
Wed., Oct. 5
12:15 PM
Riverhead Rotary
Hyatt Place
Sea Star Ballroom
431 East Main St.
Riverhead, NY 11901
631-574- 8008
Thurs., Oct. 6
6:30–8 PM
Dolphin Bookshop
299 Main St.
Port Washington, NY 10050
516-767-2650
Fri., Oct. 7
1-3 PM
Mastic-Moriches- Shirley Community Library
407 William Floyd Parkway
Shirley, NY 11967
631-399- 1511
7-8 PM (Pizza/beverages available for purchase 5:30-7 PM)
Diliberto Winery
250 Manor Lane
Jamesport, NY
---
Past Events:
Coming Spring 2016 the official book launch for Dread the Fed
2015 NY-LI Book Tour Frank Amoroso, author of Behind Every Great Fortune™
January 6, 2015, 5:45 pm, Moynihan Courthouse, Pearl Street, New York, NY, Federal Bar Council presentation on The Law & Literature: A Jury of Her Peers.
Thursday, January 8, 2015, Noon
Black & Blue Seafood Chophouse, 65 Wall Street, Huntington, NY 11743
"Lunch and Learn," The Oheka Chronicles: Behind Every Great Fortune™
www.huntingtonhistoricalsociety.org
Reservations: 631-427-7045, Ext. 404
Three-Course Prix Fixe Lunch: $40 Members, $45 Non-Members
Friday, January 9, 2015, 2-3:30 pm
Garden City Public Library, 60 Seventh Street, Garden City, NY 11530
516-742-8405
www.gardencitypl.org
Author Talk on The Oheka Chronicles: Behind Every Great Fortune™
Saturday, January 10, 2015, 2-4:00 pm
Smithtown Library, One North Country Road, Smithtown, NY 11787
631-360-2480
www.smithlib.org
Author Visit and Book Signing for Behind Every Great Fortune™
Sunday, January 11, 2015, 2-3:30 pm
Riverhead Free Library, 330 Court Street, Riverhead, NY 11901
631-727-3228
www.riverheadlibrary.org
Author Talk on Behind Every Great Fortune™
December 10, 2014, 11:30 am at UNCW, Madeline Suite, Osher Lifelong Learning Institute holiday luncheon, presentation on Otto Hermann Kahn, The Monopoly® man: Financier, Impresario, Philanthropist and much more.
September 16, 2014, 1 pm
Power Squadron Book Club, discussion of Behind Every Great Fortune™
October 7, 2014, 6:30 pm
Friends of the Library, Northeast library, Wilmington, NC, the Paynter Room, presentation on The Assassination of Archduke Franz Ferdinand: The End of a Tragic Love Story, The Beginning of WWI and Lessons for Today.
October 27, 2014
Osher Lifelong Learning Institute, presentation on The Artistic Process of Writing.
Sunday, June 22, 2 PM
Thalian Hall
310 Chestnut St.
Wilmington, NC
910-632-2265
Viennese Coffee House and Special Commemoration of the 100th anniversary of the assassination of Archduke Franz Ferdinand. Fascinating history and a taste of Viennese coffee and pastries. Special performance by singer/songwriter Jerry Powell. Open to the public.



by Frank Amoroso, Esq. Author of Behind Every Great Fortune™, the Oheka Chronicles
Wednesday, May 7, 7:30 – 9:00 PM
Plainview-Old Bethpage Public Library
999 Old Country Road
(Auditorium)
Plainview, NY 11803
516-938-0077
(10% sales to Friend of Library)
→ LI readings & signings, week of May 4
Thursday, May 8, 7 PM
Oyster Bay Historical Society
Angela Koenig Center
20 Summit Street
Oyster Bay, NY 11771
516-922-5032
www.oysterbayhistorical.org
Friday, May 9, 3 PM
Private Event at Nixon Peabody LLP (LI office)
Monday, May 12, 7 PM
Private Event and Book Signing at Oheka Castle.
(Space is limited so please contact us if you are interested)
Tuesday, May 13, 7 PM
Book Revue
313 New York Ave.
Huntington, NY 11743
631-271-1442
www.bookrevue.com
http://bookrevue.com/FrankAmoroso.html
---
March 11 – Radio interview with James Upham
March 12 – Women on Wednesday @ NE Library Executive Center, 10am
March 13 – Pomegranate Books, 4418 Park Ave. @ 7pm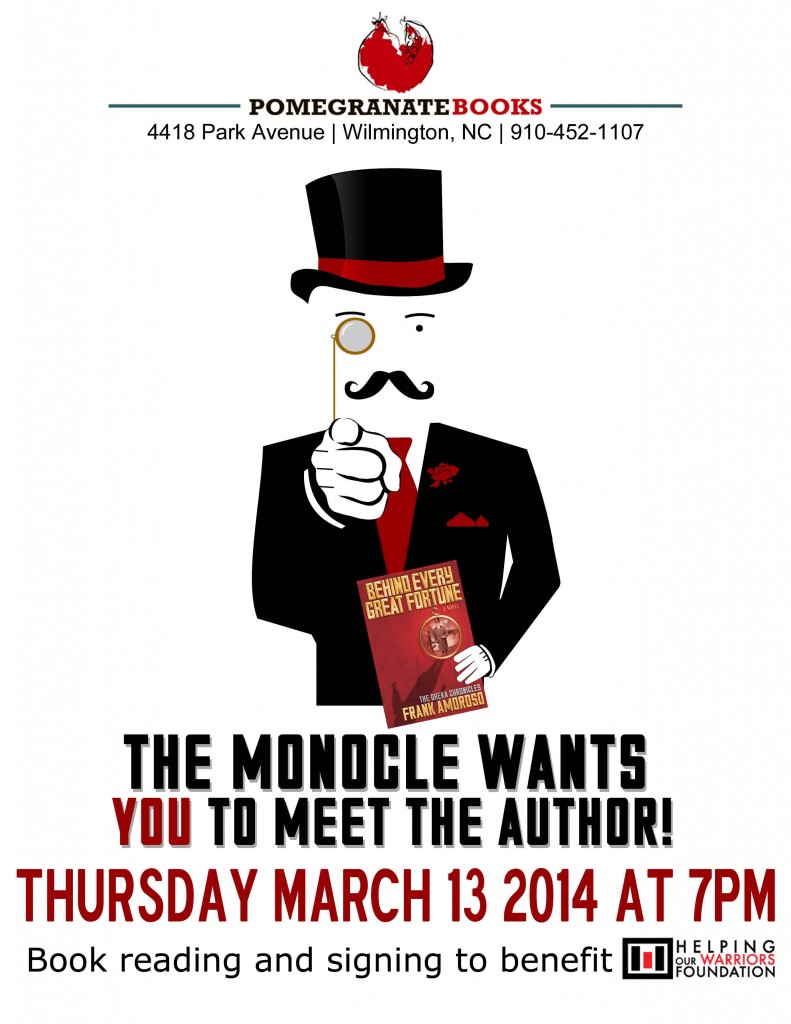 ---
02-15-14 | A Tale of Two Regicides: The Locket, The Bleeder, and The Muzhik
Sat., Feb. 15
2-3 p.m.
Admission is free.
As the centennial of World War I approaches, delve into an intriguing analysis of events that ended 300 years of
Romanov rule.
A Tale of Two Regicides: The locket,
the bleeder and the Muzhik
How the Lives, Marriages and the Assassinations of
Archduke Ferdinand and Tsar Nicholas II
Shaped the Modern World
Guest Lecturer:
FRANK AMOROSO, author of
BEHIND EVERY GREAT FORTUNE™
North Carolina Museum of History
Daniels Auditorium
5 E. Edenton Street
Raleigh, NC
919-807-7900